Conscious Burlesque® is a dance therapy modality that helps women fire up their inner spark, evoke their sensual nature, and explore their hidden shadows.
Join our next workshop
Want More?
For letters from Madame Merci and info about upcoming events, classes, and workshops!
Join Us
Conscious Burlesque® is a dance therapy modality that helps women fire up their inner spark, evoke their sensual nature, and explore their hidden shadows.
This practice allows women to find parts of themselves that have been hidden or missing for some time.
Through intimate, transformative processes, individualized attention from Madame Merci and sacred performance women discover what has been missing – their innate fire.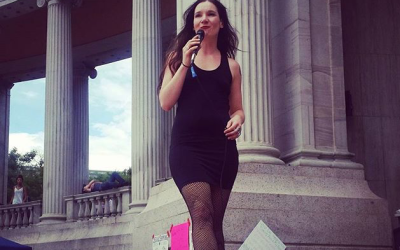 A keynote about Shame, Sex, and Following Your Heart by Jenna Noah aka Madame Merci at The Denver Civic Center Amphitheater speaking at SlutWalk 2015. In this blog Jenna discusses overcoming personal shame and stigma related to being both a burlesque dancer and a therapist. Cheers to integration, working with shame spots (even when it is uncomfortable), and to stepping fully into who you are in order to do what you love. Love, Jenna Noah aka Sex Therapist, Founder of Conscious Burlesque MA Contemplative Psychology, PhD (Pending) Jenna Noah aka Madame Merci works as a sex therapist in Boulder, CO. She sees clients in person and online (Via Skype). Jenna received her Masters degree in Contemplative Psychotherapy from Naropa University and is currently pursuing her PhD at Saybrook University with a specialization in Existential Therapy. Her dissertation is focused on sexuality and female empowerment. Jenna is the founder of Conscious Burlesque®. She teaches Conscious Burlesque® workshops, offers private lessons, leads dance classes, and performs regularly. Want to know more about our Fall online and in person workshops? The waiting List is already beginning to fill up! Find out more.  Don't Miss The Latest And Greatest Conscious Burlesque Updates and Messages. Email...
I took a burlesque workshop with Madame Merci over a year ago and haven't missed one since! It has completely changed the way I feel about myself! I was always trying to hide who I was and was terrified of what others thought of me. Through therapy and burlesque I have completely changed the way I feel about myself. No amount of therapy could have done what conscious burlesque has done for me! I say with highest honor… thank you. You have helped transform my life.
Sinful Serenity
By showing my body to others in a way that allows me to express those attributes I thought I should hide, I feel a new freedom. I am blooming.  I am showing my true colors, and it feels wonderful.  It's about allowing myself to shine and giving others the permission to do the same. Thank you, Madame Merci, for the joyous gift you've allowed me to safely unwrap.
Bloomin' Bad
The normalized approach in our society of either repressing or exploiting sexuality has created a relationship to sexuality that can often be experienced as taboo, dirty, unholy, and covered in veils. In my mind the mission of Conscious Burlesque is to bring all this and even more in to the light and embracing the sacred and profane while reclaiming our sexuality and sensuality for what it is.
Serenity Calipso
In the weeks after, I watched dozens of YouTube videos of "regular" burlesque, and attended a live show in Boulder.  Fun.  Interesting.  I get it.  "Regular" burlesque is a jocose risqué parody that revels in sexuality in the numerous places where our society is typically prudish.  As such, it does us a great service. Last night I attended my second show of conscious burlesque.  It sizzled.  I found it even more satisfying than "regular" burlesque.  It wasn't just gorgeous booty.  It is a story of human psyche, of love gained and love lost.
Paul Paiva